We recognize one fundamental truth — that all people, regardless of status, demographic, or ability, have inherent dignity that must be honored in how they are treated by their local cities, governmental units, and community members. Nowhere is this more urgent than where the spheres of public safety and public health overlap — caring for community members in crisis.
With this core principle in mind, Dignity Best Practices works at the intersection of public safety and public health to help cities meet an urgent demand for innovation. Our mission is to build effective response teams that support those experiencing crisis with dignity, connection, and ongoing support. We aim to create environments where there are:
Fewer homicides and suicides
A dramatic decrease in traumatic encounters with the police, especially for communities of color
Greater access to life-giving treatment for those with mental illnesses and substance use disorders
An increase in public trust for first responders and local institutions
And where all people are treated with dignity and respect.
When we work together to collaborate across all areas of public health and safety — social work, 911 call centers, police and fire, EMS, clinics, and healthcare — a person-centered approach emerges and the continuum of care is strengthened.
We help local governments develop effective pilot projects, improve existing programs, and implement best practices from other successful systems in order to address their community's most pressing concerns. We currently focus on the following spaces: caring for those in crisis, re-imagining public safety, and conflict and violence reduction.
Within these spaces, we help local governments design and launch pilot projects, evaluate and improve current programs, and develop their teams. To do this, we gather best practices insights from around the country, and we even stick around to help with nitty-gritty implementation support by providing project management, facilitating cross-agency working groups, drafting budgets, protocol documents, and MOUs, writing job descriptions, designing and executing training, building performance dashboards, and evaluating the early months after a program launches. This begins an iterative improvement cycle that our partners can take with them to continue to improve after we are done.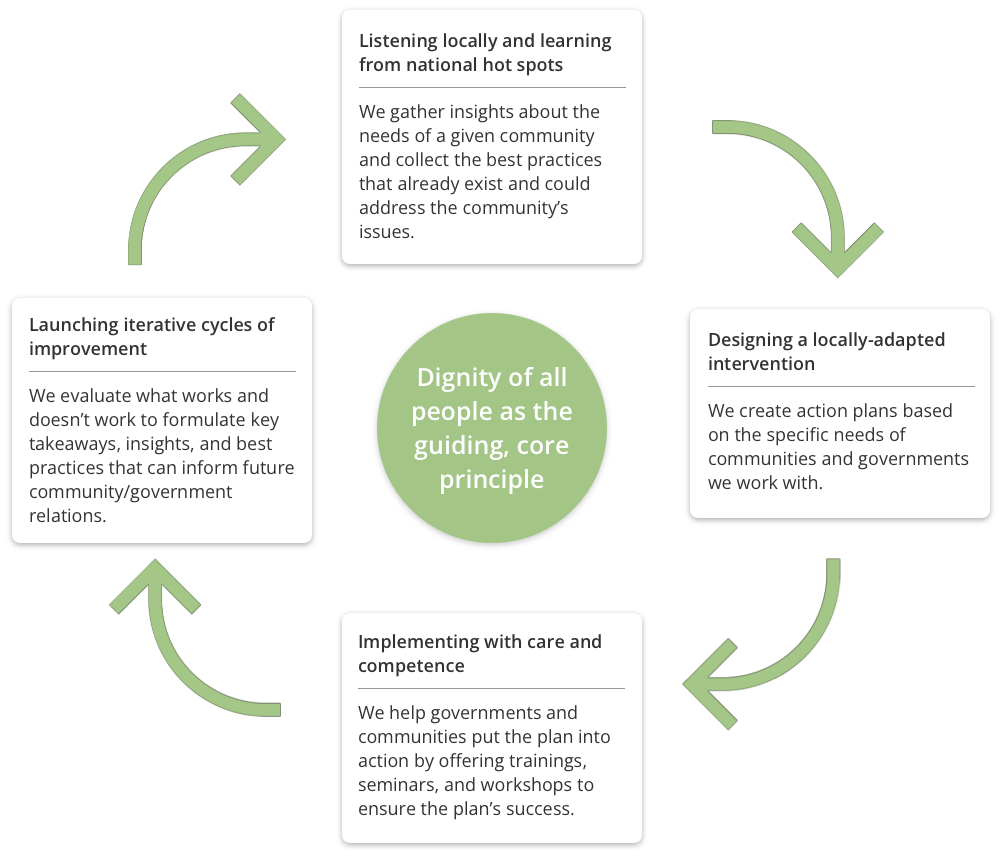 Best practices research — with dignity at the core
At Dignity Best Practices, we perform best practice research while keeping the dignity of all people at the center of our mission.
What is a best practice, and what is best practice research?
At its core, a "best practice" is:
a way of acting that produces significantly better results than other known practice
within the reach of most organizations' resources
translatable team to team and context to context
And, importantly, it is always being tested and evaluated as new candidates for best practices emerge. And new practices are emerging quickly in the space of public health and public safety. Highly-academic, quantitative, and expensive research methods that do not move at the speed of rapidly developing public health and public safety systems, but best practices research evaluates experimental practices at the pace they are evolving through a qualitative research process based on interviews and community learning. This allows information to be shared across the country in real time, rather than waiting years for academic research to catch up with the field.
Why center dignity?
At the core of all best practices implemented in the public health and public safety sphere, there must be an underlying understanding of dignity for all people. An inherent quality that every human being possesses, dignity is omnipresent and unyielding. But when individuals are in crisis, first responders who aren't properly trained may respond with frustration, or even disgust, which immediately creates a barrier to proper care.
The best practices that emerge from our research are consistently vetted to make sure they take the dignity of the human being into account, so that at all touch points, people in crisis are treated with honor, respect, dignity and aid, wherever they are on their journey.
This attunement to the humanity of all people enables us to connect not only with the people we are trying to serve, but also with the partners we work with. Civil servants and organizations do the best they can with the information and resources they have. That means we lead with respect for mayors, police officers, social workers, community organizers, and everyone else in the space. When we work together to better their systems, we do so as companions in the pursuit of better practices and better results.